Online shopping in Dubai
Whether you want to impress your guests with a marvelous dinner or to bring some fantasy to your daily cooking experiments, Secrets Fine Food is the best online retailer in Dubai! We propose a wide range of products coming from Europe, Asia, Australia or the United States of America. Our high-end goods will satisfy the most demanding gourmets.
Secrets Fine Food Luxury Retailer
Secrets Fine Food is the ultimate experience when it comes to online shopping Dubai. Specialised in luxury food, our delicatessen online shop in Dubai will provide you with authentic food specialties coming from all over the world.
We have at heart to give our customers the privilege to discover the world's culinary wealth. Our website regularly displays new products to complete our already important offer.
The goods of excellence present in our online shop are nicely sorted into categories in order to make your shopping experience easier. From the essential classics to more rare products, Secrets Fine Food will have something that will tickle your taste buds.
Both luxury and organic lovers will find something to their delight. Bring gastronomy to its best level with our selection of fresh seasonal products. Our heart is set on presenting you the finest goods coming from the craft industry, ambassadors of authenticity and savoir-faire. This way, we hope to deliver not only top notch food but also satisfaction to our customers.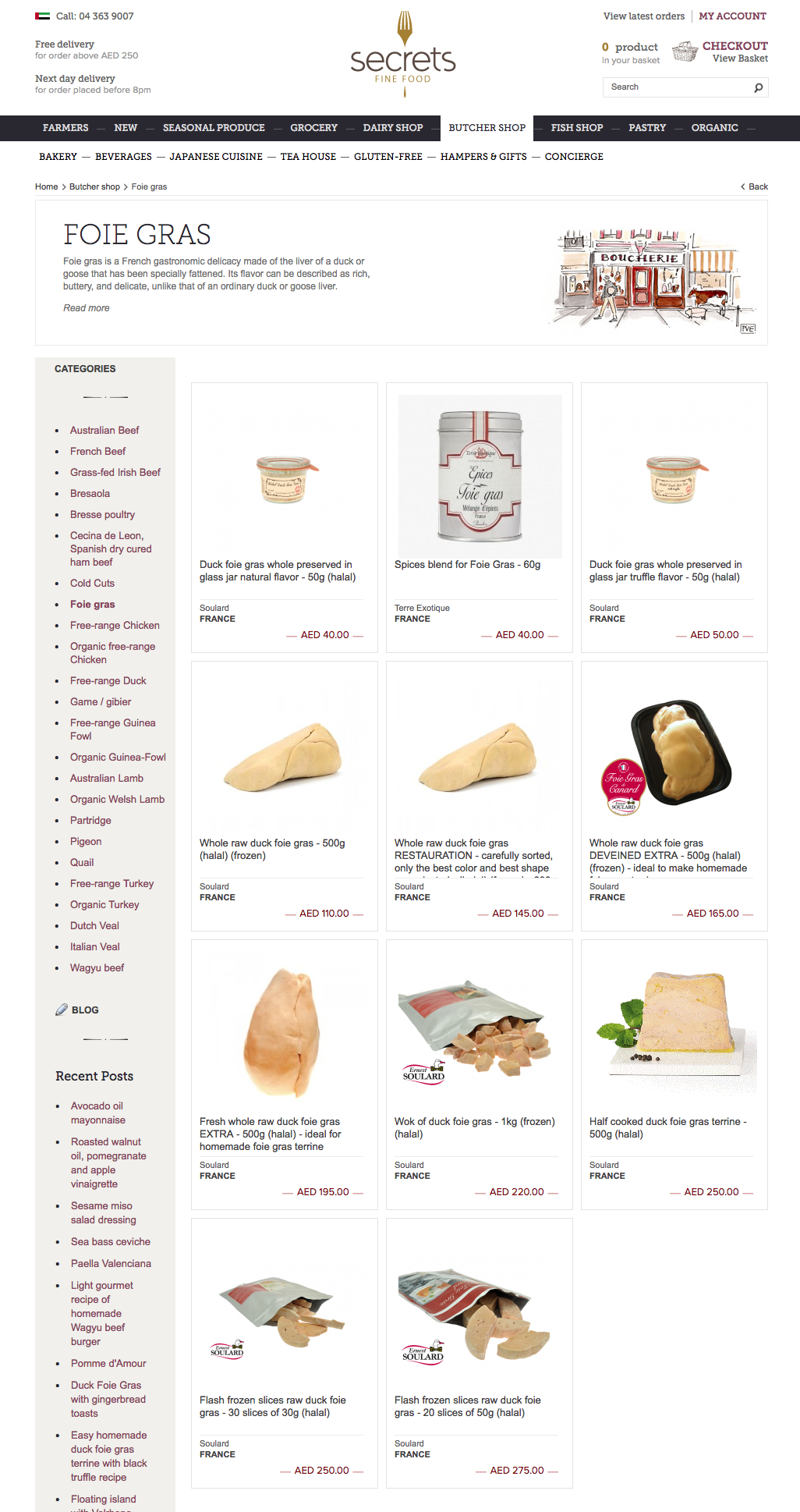 The best online grocery in Dubai
With Secrets Fine Food, bring Dubai online shopping to the next level and treat yourself with unique tastes and flavours which will make you travel without even leaving your kitchen!
For instance, you can find here a broad collection of exceptional French items that you would usually find on the menu of most prestigious gastronomic hotspots: fresh black truffles, foie gras that you can serve with a wild blueberry and ginger jam. Unless, you'd rather like to save that last to marry it with some goat cheese and eat it along with the so typical French "baguette". Or, maybe, you would better like salmon filets with homemade butter and dill sauce. For those with a sweet tooth, some colourful macaroons will, perhaps, give you the impression to be in beautiful Paris!
You might as well set sail for Italy and have a go at one of their traditional cheeses: why not trying the refreshing combination of San Marzano tomatoes and the Mozzarella di Buffala, highlighted by a trickle of olive oil and a few leaves of fresh basil?
Head straight to Japan and discover our selection of products: miso soup, soy sauce, yuzu... The change of scene is guaranteed! Our teams even prepared plenty of recipes to inspire you!
No matter where your heart takes you, Secrets Fine Food is the best Dubai online shopping reference.